Funeral Transfer
Services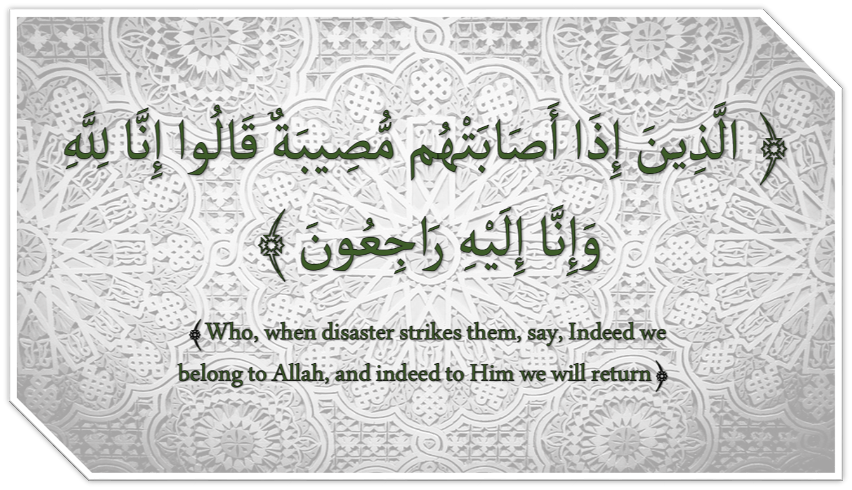 London Muslim Mosque Funeral Transfer Service
TSO Class 2 - Restricted
Hours of Operation
Monday to Friday from 10 AM to 6 PM, call (519) 439-9451 or email secretary@londonmosque.ca.
Outside those hours, please call Hassib Zabian at (519) 871-4973

When you call, please provide us with the following information:
Your name

Phone number to reach you at

Name of deceased

Your relationship to the deceased

Location of the deceased's body

When you would like to schedule the funeral service
Please note that the Islamic Cemetery of London is located at 6100 White Oak Road. and is managed by the Islamic Centre of Southwest Ontario.
Any purchaser of services may access an electronic copy of the guide prepared by the Bereavement Authority of Ontario available on the BAO's website: https://thebao.ca/for-consumers/consumer-information-guide/
General Price List - March 1st, 2022
Planning Services
We don't offer pre-arranged services and all our services must be planned at the time of death. However, we are more than happy to answer any inquiries about the services we provide at any time, through phone, email, or in-person.
Description of Itemized Services Provided
1. Professional & Staff Services
Professional & Staff Services for arrangements and meetings with the family and/or executor, coordinating activities, rites, and ceremonies. This includes services of staff for organization and supervision of all activities including services and supplies provided by us, as well as those provided by third party suppliers, such as death notices, maintaining of facilities, equipment, and grounds; staffing of office, telephone, and general needs as they arise on our premises, etc.
2. Documentation, Forms & Permits
Completion and filling of all documents necessary to carry out the services and supplies requested, including but not limited to death registration, burial permit, invoices and all general clerical and accounting duties associated with operation of funeral services; essential record keeping, and provision of proofs of death issued by London Muslim Mosque Funeral Transfer services. This cost does not include fees charged by coroners, City Hall, or other government agencies for the actual certificate. This is charged separately. Our proofs of death are usually accepted for most estate settlement purposes, but sometimes a provincial "Death Certificate" will be necessary and is available from the office of Register General through service Ontario, at an additional cost. Upon requesting our services, we handle the preparation of all the documents to secure the burial permit. We are responsible for submitting these documents subsequently to the City Hall.
Please note we provide an electronic funeral notice service to announce funerals, burials and condolences info through our social media and email channels.
Proof of Death Certificates
We provide a Proof of Death Certificates within two working days after the services are performed. The certificate can be received from the secretary office.
Please note that due to concerns with the Privacy Act and the Vital Statistics Act, it is the organization policy not to issue Proof of Death Certificates when we are unable to confirm that the person requesting the certificates has the legal rights to them, or when the death has taken place more than twenty years ago. Funeral Transfer services are under no legal obligation to issue a Proof of Death Certificates to anyone, even to executor/Estate Trustee, save rare circumstances when issued a warrant to do so by the Crown.
It is our personal experience that with the rise of identity theft, our recommendation is that executors and/or next of kin exercise caution to whom they give proof of death certificate to.
If an estate is administrated by a government agency such as Discretionary Benefits of the City of London the Ontario Guardian and public Trustee, or the children's Aid Society of Ontario, then the law states that all copies of the Funeral Director's Proof of Death Statements shall be given directly to the agency involved and not to any family member.
3. Removal from Place of death Within City of London
The local initial transport would include one person in attendance at a hospital or nursing home and returning to London Muslim Mosque. If death occurs at private residence a charge for a second staff member will apply. A charge will be applied for each transportation request.
We define "local" as the City of London. Outside of this area is subject to out-of-town charges.
4. Funeral Van
Includes the driver, full sized Sienna Van used for transport within City of London as defined above, transport casketed remains to and from London Muslim Mosque to a cemetery. Also includes the use of a funeral coach and driver within the city of London. There will be an additional fee for mileage for transporting a body outside the city of London, at a one-way rate. Additional mileage will be charged at $1.50 per KM.
5. Washing & Preparing the Body
In our facility, we have and approved holding room used for washing, shrouding & preparing the body for burial. We follow the Islamic rites and health regulations in doing so. Preparing the bodies for burial has to happen within 72 hours from the time of death and with the body being outside a cooling facility.
If the burial will happen beyond the 72 hours an additional fee will be charged for storing the body at a third party facility that is equipped with a cooling facility.
6. Casket
Our caskets are made from wood, and they are very basic, manufactured at our facility or supplied by an outsource. Those requesting our services have the option of purchasing a casket to their liking from a third party.
7. Imam Services
Our Imam provides religious support and guidance to the family members. After the Janazah prayers, our Imam accompanies the family to the cemetery. He supervises the burial process to ensure adherence to the Islamic rules and makes supplication for the deceased.
8. Reception Hall for Condolence
The mosque is centrally located in the city of London and is easy to access. Our facility features 122 parking spots, full accessibility, and an option between a basement hall and a full-size gym. The family has the option of providing an outside caterer or we will provide them with a list of our own caterers. Catering fees are paid for at the time directly to the caterer.
Disbursements and Government Fees
This is money we finance ahead of time. on your behalf, for funeral expenses we arrange for you but do not have any direct control over the cost. We pass on exact charge to the family as it is given to us.
Cemetery charges such as plots and opening and closing fees are charges separate and are paid directly to the Cemetery by the family at time of need.
City of London Death Registration Fee:
All burials that take place inside the City of London must be registered at the City Hall
Current fee..………………………………………………………………………….………………………………………………………$40.00
Death outside London but registered with the City of London……………………………………………………… $75.00
All Government fees at the Time of printing Are Not subject to HST
Please Note All Government Fees Are beyond our control and are subject to change without Notice
Price List for General Requests
| | |
| --- | --- |
| Service | Fee |
| Professional & Staff Services | $400 |
| Documentation, Forms & Permits | $300 |
| Removal from Place of Death within City of London | $300 |
| Funeral Van | $300 |
| Washing & Preparing the Body | $200 |
| Casket | $350 |
| Imam Services | $200 |
| City of London Death Registration Fee | $40 |
| Total of Services | $2090 |
Reception Hall Fees
| | |
| --- | --- |
| GYM for Condolences | $200 |
| Lower Hall For Condolences | $200 |
Prices Do Not Include HST
Additional information is available upon request
To Download our price list, Please Click Here
Directions to the Islamic Cemetery
Travel time: 20 min (16.7 km)
From Summit Ave, Turn left on Oxford St W
Fastest route now due to traffic conditions
Take Oxford St W to Wharncliffe Rd N
Take Manning Dr to your destination
Islamic Cemetery of London
6100 White Oak Rd, London, ON N6L 1N4
Directions on Map please Click Here
Directions to Forest Lawn Memorial Gardens
Travel time: 18 min (10.3 km)
Turn left onto Oxford St W
Turn right onto Clarke Rd
Turn left onto Dundas St
Forest Lawn Memorial Gardens
2001 Dundas St
London, ON N5V 1P6
Directions on Map Please Click Here