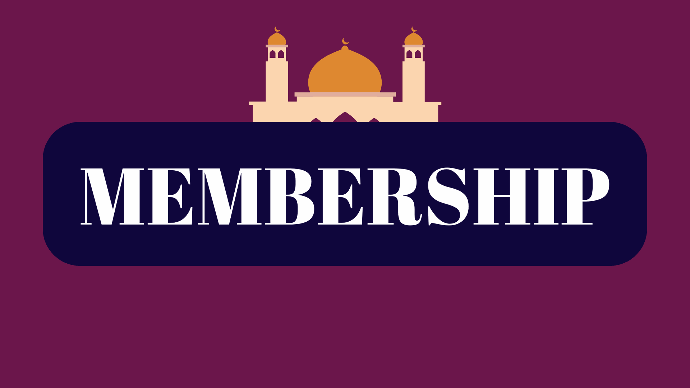 Becoming an official member of the London Muslim Mosque (LMM) provides you with the privilege of participating in the Mosque's affairs, decisions and governance-related matter by attending general meetings that are held throughout the year. Becoming a member also allows you to make a difference at LMM, nominate other members and/or run themselves to serve on the LMM Board. Moreover, your membership fees are considered donations and go towards covering the operational costs of the Mosque. Jazakum Allah Khairan for your continued support and participation. Inshallah we are working on creating more incentives and benefits to active LMM members. Stay tuned for more information on these perks!
LMM Membership Steps
Complete the membership application form click here
Submit your payment
Approval by the Board of Directors

Membership Fees
Membership fees are used as donations to the Mosque. You may choose to pay your membership fees in monthly installments ($10/month) or in a one-time installment ($120/year). Automatic renewal is possible on a monthly or yearly basis, by completing the forms in the links below; that way, your membership is automatically renewed, and you don't have to worry about forgetting to renew it.
To set-up an automatic payment of $10/month towards membership, please complete this form (click here for debit or click here for credit card) and e-mail it to secretary@londonmosque.ca.
To set-up an automatic payment of $120/year towards membership, please complete this form (click here) and e-mail it to secretary@londonmosque.ca.
We encourage members to sign-up for an automatic monthly payment plan. Monthly paying members do not have to come to the mosque every year to renew their memberships as they are automatically renewed.
"The acts most pleasing to Allah are those which are done continuously, even if they are small." (Sahih Muslim).
Membership Expiration Date
Memberships now start on January 1st and expire on December 31st of every year. Membership fees are not prorated based on when you apply for membership. The only exception is for monthly paying memberships which are renewed automatically provided that the member is submitting her/his payment monthly.
Family Memberships
All memberships are individuals. We no longer have family memberships.
Donation vs. Membership
In the past, any donation amount over $120 automatically guaranteed the donor a membership status. This is no longer the case. As per Ontario Corporation Act regulations, membership is a responsibility and the process involved consists of completing the LMM membership form, making your payment and obtaining approval by the board to become a member of a non-profit charitable organization.
To ensure that your membership is properly renewed, please make sure to explicitly specify that at least $120 of your donation is for membership purposes when you submit a donation to the Mosque. Furthermore, membership fees are considered as donations for the Mosque and you will receive tax receipts at the end of the year.
Please refer to LMM's By-laws page for more details: click here